Blinds, Shutters and Awnings
Click on the products below to find out more information
A good night's sleep is important for wellbeing, and the comfort provided by a waterbed, is guaranteed to boost your energy!
Our manufacturers have been developing, producing and selling waterbed systems for many years. Waterbeds are made up of a frame and mattress. The frame surrounds the flexible mattress, supporting it and maintaining its shape, meaning you can use waterbeds on any bed.
With a waterbed, you float on a large individually temperature-controlled core of water, and your body is supported evenly. No other mattress system will adapt as perfectly to match different body shapes, and because of this, you lie in the bed, not on it. Water is displaced by body mass, and pressure points on the body are prevented, taking the load off your vascular system. The even support a waterbed gives you relaxes your muscles, helping you easily achieve the right conditions needed for a peaceful night's sleep.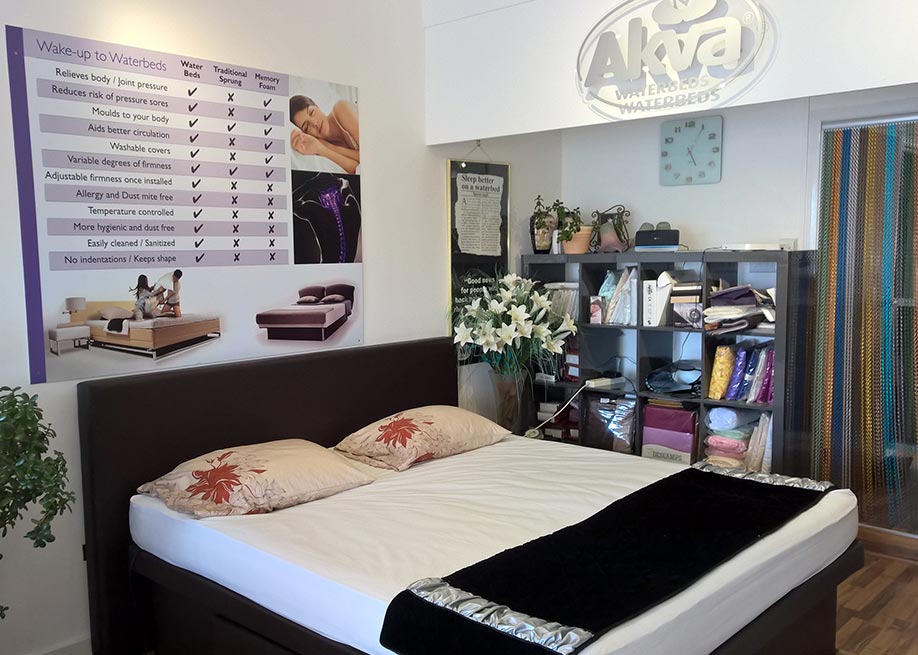 Mira
The clean lines of the Mira present the classic/modern shape and make the pyramid-like bed look almost floating. It's minimalist, precise and modern design does not clash with a cosy and warm bedroom environment. The upholstered frame has a comfortable sitting edge, and inside that is an improved hardside waterbed with the highest possible conformity and reduction of pressure.
Hydrobed
The British-made BWC Hydrobed waterbed excels in support, comfort, hygiene and durability. The HydroPedic water mattress simply displaces to contour to your individual shape and weight, providing the best body support. It does so with the least pressure, maximising your comfort, helping you to relax, and providing a healthy sleeping environment.
Comfort
Because waterbeds use the displacement of water to provide comfort and support, they conform better to your body than any other type of bed, promoting circulation, a natural body position and a good night's sleep. The water volume inside the bed is infinitely adjustable, meaning that you can adjust the feel of your bed to suit your personal preferences.
Durability
Waterbeds, compared to innersprings, latex and other kinds of beds, use the displacement of water for comfort. It is not under pressure and the water cannot be worn out through use. That is why we say that waterbeds have "durable comfort". Even 30 year old timber framed waterbeds are as comfortable now as the day they were bought.
Value
Waterbeds provide outstanding value compared to other types of bed. The level of comfort exceeds other sorts of mattresses but the cost is comparable to basic innerspring beds. Not only are waterbeds good value to purchase, but their durable comfort and modular systems mean they can be maintained, ungraded and even repaired so your original investment gives many, many years of good sleep.
Frequently Asked Questions
FEEL FREE TO GET IN TOUCH
Leave a message
CONTACT DETAILS
Get in touch today!
459 Woodgrange Drive, Southend on Sea, Essex, SS1 3EB
Mon-Fri: 9am – 5pm Sat: 10am – 4pm Sun: Closed